A Brand New Website and Name for NCHS
March 31, 2022 |
3 min read
Back when NCHS was founded in 1893, we set out to put children first by providing access to necessary resources and a loving home. With a range of services, including educational classes, community resources, and group support, NCHS invests in the wellbeing of families and caregivers to help create a bright future.
Our services are no-obligation and offered judgment-free, meaning we can meet you wherever you are in your journey and support you as you grow in your skill sets. Now, nearly 130 years later, we're excited to announce a new look that better reflects our continued mission.
@NEchildrenshome is excited to announce some updates to the #brand and #site! Check out what changes you can expect in their latest blog:
Click To Tweet
Nebraska Children's Home Society is rebranding to the abbreviated "NCHS" in conjunction with the launch of our newly minted website.
A Fresh, New Look
Recently, we announced the official rebranding of our foundation name to "NCHS". This move was made to better increase our brand recognition and create a simpler discovery process for people looking for support.
Ever since the start, NCHS has always been focused on investing in the success of families and caregivers, so they can provide love and support to their children as they grow. These recent changes to our branding help us further that mission.
"As we near our 130th year of operation, we want to ensure that our name, logo, and all public messaging align with the breadth and scope of services we provide today. Nebraska Children's Home Society is a name on which we have built a rich history, but, ultimately, it is a name we have outgrown. Transitioning to the simplified NCHS reduces the use of potentially confusing language that may deter individuals from learning more about all our agency has to offer children and families. Through this rebranding, we are reintroducing ourselves to the broader Nebraska community as a resource for families of all types."

- Lana Temple-Plotz, CEO of NCHS
This brand refresh provides NCHS with the opportunity to attract more families in need of their services. With the updates to our website and name, NCHS stands out as a leader among nonprofits serving children and families in Nebraska. Additionally, these changes work to reduce confusion regarding the kinds of assistance our organization offers.
This is just one of many changes we're announcing, including our new website launch in March 2022.
Unveiling A New Site
On top of a name change, we're also excited to unveil our brand new website, which launches in March. This new and improved site will act as a conduit for potential program participants.
@NEchildrens is unveiling a fresh #website and #branding look! Check out how these changes will help them to better serve the people they support:
Click To Tweet
With our new site, our goal is to create a more organized user experience. We've worked on the navigation, making it easier than ever to find specific programs or information you need. Added forms and chat functions also make it much simpler to connect with our team or know what steps to take next. And our extensive resource library ensures you can access the information you need regarding our services.
Your experience interacting with our site will be smoother, more enjoyable, and more educational than ever before.
"People who seek our services are often experiencing a pressing need. Maybe they are facing an unplanned pregnancy, have recently found themselves caring for a young relative, or are struggling to provide for their own children. We believe families in need of support should have swift access to the services and resources they need to move through whatever challenging circumstances they encounter. Our new website makes finding and connecting to our services simple, helping us to be there for families at the moment they need us most."

- Lana Temple-Plotz, CEO of NCHS
Since our founding in 1893, we've always upheld the motto of "putting children first." While we work together to invest in the families and caregivers responsible for the next generation of leaders, we're ecstatic to implement the new updates and changes to our website.
Our latest changes will help us to better serve the individuals seeking support while providing the best, most comprehensive information possible. We'll be able to serve the community more efficiently and effectively for decades to come.
To find out more about the updates occurring in the NCHS brand, please contact Fa'iz Rab for further details: frab@nchs.org. Or, to learn more about NCHS' comprehensive offerings, visit their website.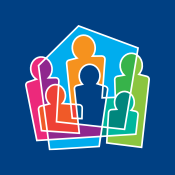 NCHS Team
The NCHS team is committed to helping children, parents, grandparents, and families create a safe and loving home. To the NCHS Team, children always come first. By providing support to families and parents, NCHS works to ensure children have access to the care, love, and development opportunities they need to be successful adults.
Related Blogs
Stand For Children's Day
June 1st is Stand For Children Day, an important observation serving to raise awareness about the...
Read More +
United Way of the Midlands awards $52,000 to Nebraska Children's Home Society to fund family support programs
OMAHA, Neb. (August 27, 2021) – Nebraska Children's Home Society (NCHS) is pleased to announce that...
Read More +
Students beat congregation in diaper drive for NCHS
On Friday, July 2, 2021, the congregation and children of Saint Michael Lutheran Church Vacation...
Read More +
Get in Contact
888.315.7347
4939 South 118th Street
Omaha, NE 68137
Helpful Links